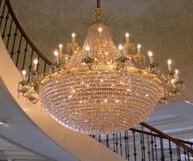 Nothing makes a statement in your house like a chandelier creating a beautiful focal point in any room. These fixtures can be found in a variety of styles, sizes, and shapes ranging from classic to contemporary, and instantly adds a touch of elegance to your home. A high quality fixture is a good investment, adorning your home for a lifetime, but it is very important to take proper care of it. When you are ready to have your chandeliers cleaned, you may want to turn to the professionals at Total Home Care of Georgia, Inc. in Atlanta. We provide our services to a large portion of the area. Check out the list of cities in which we provide chandelier cleaning.
According to House Cleaning Central, it is important to get your chandelier cleaned regularly so that it maintains its brilliant shine. Here are some guidelines from the site that we also follow when performing these cleaning services in a home:
Always be sure that the light is OFF before removing any light bulbs or crystals
Soft, cotton cloths will be used instead of paper towels which could scratch crystal surfaces
Cleaners are not directly sprayed onto the crystal as this can damage its finish
Light Fixture Cleaning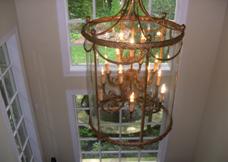 Our light fixture cleaners focus on the cleaning of all kinds of fixtures, regardless of whether they are a family heirloom or a new purchase. Regardless of what type of light fixture you've got, it is very important that you ensure that is stays in good shape.
A dirty chandelier very quickly loses its luster and twinkle; the build-up of dirt and grime lessen its ability to reflect light. Although the process of disassembling and cleaning a light may appear a little too much to handle to the typical homeowner, our team of professionals is easily able to get the job done. We will make your fixtures sparkle and look like new again!
This is a chore that many homeowners have a tendency to overlook. You would be surprised at just how much dust and grime there is on your lights. Also, there is probably a substantial accumulation of cooking oils on the outside, and dead bugs on the inside of the light.
Contact Us
Our professionals can clean lights which are situated high up or within easy reach in your home, so you don't have to! We can also replace those hard to reach light bulbs. Please contact Total Home Care of Georgia, Inc.at 770-662-8210 for more information or to schedule an appointment. We offer FREE in-home estimates.
Benefits to Hiring a Professional
The average homeowner doesn't have time to properly clean all of their windows. For this reason, it can be advantageous to you to use the services of a professional window washers, such as Total Home Care of Georgia, Inc. According to Angie's List, listed below are the 5 reasons why you should choose to work with an expert when it comes to this common household chore:
Detecting problems: When you work with a professional, they will quickly be able to determine if there are any problems with the window itself. They can spot screens that have tears, damaged window weights, wood rot on sills, and damaged sashes. When these problems are detected early, it can help to save you a lot of money on repair or replacement work further on down the road.
Removing bug infestations: It is not uncommon for bees to build hives in the corners of window frames or behind shutters. When this happens, it can often make the window difficult to operate.
Extending the window's life: When you have your windows properly cleaned, you can help to extend their life significantly. For example, if you have an aluminum frame, the screen can start to etch a pattern on the glass over time. When this happens, it can cause the glass to be more prone to damage, such as cracking or chipping.
Proper cleaning products: Professionals also know which cleaners to use on certain types of windows. For example, leaded or stained glass can be damaged if you use an ammonia-based cleaner bought at the store. Our experts will be able to advise you as to which household cleaners will be safe for you to use between visits.
Removing spots: If you have noticed that there are spots on your glass, this could be from the mulch you use in your landscaping beds. Cheaper mulches have a fungus which can cause black spores to fixate themselves on your glass and siding, becoming very difficult to remove over time. Our specialists will be able to carefully remove these spots for you, as well as spots that may be caused from other factors.
Our cleaning company provides a number of services for many different types of windows. This job doesn't have any set technique; it differs with the style of windows and the location. We offer free estimates to all of our clients!
Please feel free to contact Total Home Care of Georgia, Inc. at 770-662-8210 to learn more. We look forward to working with you soon!
Average rating for Total Home Care of Georgia, Inc. is 4.99 stars of 5 stars – based on 707 reviews
Window Cleaning in Cumming, GA
Had an appointment to do window cleaning today at a home in Cumming, GA on Porterton Way.
David G. – Cumming, GA 30041