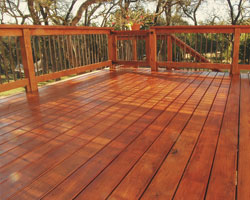 At Total Home Care of Georgia, Inc., our skilled deck cleaning service will clean your deck or other wood surfaces, to efficiently get rid of mold, mildew, debris and grime. To be able to clean these surfaces properly, we make use of a pressure washer and special wood cleaning chemicals. Pressure washing should be done before a homeowner attempts to stain their deck or other wood surface to make sure there is a clean surface for the new stain to adhere to. We do also offer deck or wood surface staining and sealing.
According to Lowes, one of the biggest decking materials suppliers in the country, UV rays can penetrate your deck's materials and cause graying. We have the expertise to safely clean your deck's surface, regardless of what it may be made out of. We have a large service area, check out the map to see if we provide deck cleaning service in your area.
We can clean the following surfaces:
Wooden decks
Composite decks
Vinyl decks
Contact Us
Please feel free to contact Total Home Care of Georgia, Inc. at 770-662-8210 for more information about our work. We look forward to helping you soon and appreciate your interest in our business. We want to be your number one choice for cleaning services. We offer free-of-charge in home estimates.
Average rating for Total Home Care of Georgia, Inc. is 4.99 stars of 5 stars – based on 707 reviews
Window Washing in Atlanta, GA
I am crazy about Chris and Kyle! They are so professional, proficient, and careful with things that I asked them about, like the bushes. I am so …
Barbara B. – Atlanta, GA 30339