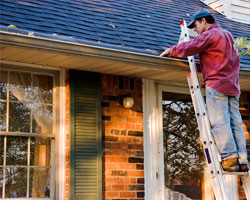 At Total Home Care of Georgia, Inc., we offer the best gutter cleaning services for Atlanta area homeowners looking to get their gutters and downspouts clean and clear of all debris. Maintaining your home can be a demanding task if you are doing it yourself. Keeping your rain removal system cleared out is more important than just a cosmetic task. By not cleaning out your gutters. you can damage the soffits and trim near your roof and this can even cause leaks in your home and basement. Many homeowners do not own the necessary ladders or are not comfortable enough up on those ladders to get the job done. And then there is the removal of all the debris from the job. Is it all sitting in your newly planted flower bed or all over the deck furniture? Let us take care of this messy job for you.
This is a job that few individuals enjoy. As time passes, dirt, leaves, and other debris can accumulate inside your gutter and make it clog up. If you don't care for this issue immediately, it will cause problems. Backed up systems might overflow, channeling water beneath your roof shingles or pouring over the sides. These clogs can even result in weed growth! We have a large service area, check out the full list of cities in which we provide gutter cleaning.
Clogged Gutters
No matter how serious your clogged gutters may seem, we will use techniques that will both remove blockages from the rainwater system and also make sure the downspouts are totally clear. This helps to guarantee that the entire gutter system is functioning properly to offer maximum protection for your property.
Why Clean Your Gutters?
According to AllState, one of the leading home insurance companies in the country, cleaning your gutters can help prevent various types of serious damage in and around your home. Leaking gutters or systems which aren't draining correctly can result in destruction of the siding on your house or cause the paint on your house's exterior to crack, chip, and peel off. This moisture can also build up next to your foundation walls and eventually seep into your basement and cause damage.
Also, clogged gutters are very inviting to unwanted critters, including carpenter ants, mosquitoes, mice, squirrels, and rats. All of these pests could eventually find their way into the living areas of your family's home.
Contact Us
Do not hesitate to contact Total Home Care of Georgia, Inc. at 770-662-8210 today to schedule an appointment. We offer free in-home estimates for our services.
Average rating for Total Home Care of Georgia, Inc. is 4.99 stars of 5 stars – based on 707 reviews
Window Washing in Atlanta, GA
Good job. They're real thorough. The windows are smudge-free and sparkling when they leave.
Delia C – Atlanta, GA 30308