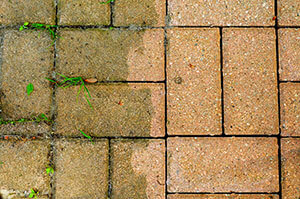 At Total Home Care of Georgia, Inc., we offer pressure washing for homeowners who want to get the exterior areas around their home sparkling clean. Keeping the exterior of your home looking fantastic may not be something you have the skill, equipment, or time to take care of on your own. The exterior of your house can accumulate dirt and even grow mold which can detract from its appearance and can become slippery and dangerous. Our experienced technicians will know the correct solution and pressure to apply to the surface being cleaned. Let Total Home Care of Georgia, Inc. restore the beauty of the exterior surfaces around your home.
Our cleaning services are able to take care of cleaning a variety of different residential surfaces, including: sidewalks, driveways, siding, brickwork, stucco, decks, patios, and much more. It's recommended that you get a professional to take care of your pressurized washing to prevent damage to siding, stucco or grout. Our techs have the experience to take into consideration the various types of solutions and different levels of pressure which are needed for different types of surfaces and for different types of spot removal. We have a large service area, check out the map to see if we provide pressure washing service in your area.
We can clean the following surfaces:
House
Decks
Driveways
Sidewalks
Porches and patios
Garage floors
Contact Us
Please feel free to contact Total Home Care of Georgia, Inc. at 770-662-8210 today to schedule an appointment.
Average rating for Total Home Care of Georgia, Inc. is 4.99 stars of 5 stars – based on 707 reviews
Gutter Cleaning in Atlanta, GA
We had an appointment today to do gutter cleaning in Atlanta on Wieuca Trace.
Freida J. – Atlanta, GA 30342